Panpharma, a Group built around human values
The Panpharma Group is built on human values, which has helped it to go forward and achieve its aims: a flair for enterprise, team work, simplicity, responsibility and performance. These values represent a valuable asset that we want to share with all our employees. If you share these values, you will be like a fish in water at Panpharma.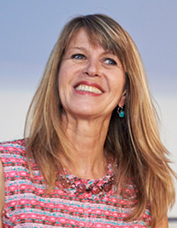 « The development of Panpharma is the result of the involvement and talent of its employees above all, committed women and men who are attached to their company. That is why taking human factors into account is central to the decisions taken by our business.
We work to ensure that each of our employees grows so that they can thrive in their work and their personal life. In return we expect everyone to be completely committed to their work.
To be a recognised global operator in injectables, we must aim for operational excellence and control the smallest details. Our profession is based on a chain of responsibilities where each one plays an important role and collective success depends on everyone's investment.
The sustainability of our business is also based on the long-term commitment of our employees. That is why we do all we can to deserve the trust and loyalty of all those who come to work for us.
Marie-Hélène Dick, Company Chair
Entrepreneurial spirit
We implement initiatives to progress. We contribute ideas. We make rapid decisions. This is how our continuous improvement approach is implemented and developed. Every individual, regardless of their position, is able make an active contribution to the development of the company.

Teamwork
Together we are stronger. Our Group develops through quality and effectiveness in teamwork through interdisciplinarity. Our focus is always on acting collectively at all levels: in the teams, between departments, between Group companies, as well as with our partners, our suppliers and our clients.

Simplicity
We always strive for simplicity. We define and implement clear strategies. We develop solutions that focus on good sense and efficacy. We establish, within the company and with our external contacts, relations based on honesty, authenticity and warmth.

Responsibility
We are demanding and we do all we can to meet our commitments. As a medicines producer and distributor, we are responsible for public health. In all our activities we are demanding, rigorous and professional in all our actions.

Performance
We are ambitious, and to develop our ambitions we need to perform and generate the capacity for investment (improving production tools, product research and innovation). Our performance is a function of operational excellence, of controlling costs and deadlines and of the commitment of all employees at all times and at every level of the company.